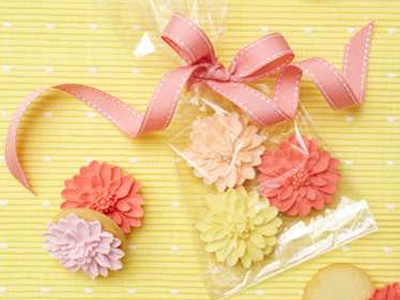 Blossom Biscuits Recipe
Made in a selection of pretty colors, these cookies make fabulous thank-you presents or favors. This recipe makes approximately 30-40 biscuits.
Recipe Ingredients:
200g unsalted butter, softened *
200g caster sugar *
Seeds of 1 vanilla pod * Pinch of salt *
1 medium egg * 400g plain flour, plus extra for dusting *
600g sugar paste * 2 tsp gum tragacanth (natural gum) *
Yellow, orange, pink and red paste food color *
A small amount of white vegetable fat (optional) *
A small amount of apricot jam, sieved
EQUIPMENT
4-5cm (1½-2in) round pastry cutter *
Chrysanthemum silicon mold (Peggy uses a mould from First Impressions)
Preheat the oven to 175°C/gas mark 3. Line two baking trays with grease-proof paper.
Recipe Directions:
Preheat the oven to 175°C/gas mark 3. Line two baking trays with grease-proof paper.
Cream the butter, sugar, vanilla seeds and salt in a mixing bowl until smooth.
Beat the egg lightly in another bowl and slowly add to the butter mixture while still whisking. Sift the flour and mix until the dough just comes together.
Gather the dough into a ball, wrap in cling film and chill for at least 30 minutes or until it feels firm and cool. Place the dough on a floured surface, knead briefly and roll to a thickness of 4–5mm.
Using a round cookie cutter, cut out 30 biscuits and place onto the prepared baking trays. Chill for 30 minutes or until cool and firm. Bake for 6 minutes or until the biscuits are golden brown around the edges. Let them rest for 30 minutes outside the oven.
To Decorate:
Knead the sugar paste with the gum tragacanth until it starts feeling firm and stretchy. Divide the sugar paste into four equal parts.
Mix the first with a small amount of yellow paste food color to a pale lemon shade, the second with orange to a pale peach shade and the third with pink to a pale pink shade.
To create a coral shade, combine a little of the red and orange paste food colors and use to color the fourth part. If the sugar paste sticks to your fingers while coloring, add a small amount of vegetable fat.
When the paste is colored, cover with cling film to prevent it from drying out and leave to rest for 30 minutes to firm up a little.
Using the mold, make a chrysanthemum blossom for each cookie using the different color sugar pastes.
Gently heat the apricot jam in a saucepan. Brush a thin layer over each cookie, place the blossoms on top and leave to set.
Recipe by You and Your Wedding
Recipe
Recipe, REcipe, Recipe, Recipe